Fiance and I really love breakfast. This is a much more recent development for him, since in high school and through college he got up as late as he could, only sparing enough time for a five minute shower and leaving a whirlwind of "WHERE'S MY BLUE SHIRT?!" chaos in his wake. I've always enjoyed a slower morning and giving myself plenty of time to enjoy a cup of coffee and for the six outfit changes that will inevitably take place. Does anyone else find that the adorable outfit they'd planned out while in the shower turns out to be awkward and awful on? I have to say I'm glad that he now enjoys spare morning time as well, not that he doesn't still push it occasionally.
We have a few breakfast staples, like oatmeal with fresh fruit, peanut butter toast, and fried eggs over a potato hash, but it's fun to make a breakfast treat like scones or this tasty french toast bake every once and awhile.
It starts out with a loaf of challah bread, preferably a day old. Make it easy on yourselves and grab it from the store.
Then some beautiful Granny Smiths. You will never find me baking with any other apple. They're also our favorite to snack on, with a generous helping of peanut butter.
Whisk up some eggs, milk, cinnamon, mixed spice, salt, lemon juice, and vanilla, then toss it in a nice big baking dish with the bread and apples. Sprinkle some raw or brown sugar over the top with some more cinnamon.
Then bake the beautiful thing until the top is golden and a little crunchy and the inside is custardy and delicious.
Oh, and cover it with plenty of maple syrup. I also thought honey might be a tasty topping. A little butter never hurts if you're feeling real adventurous.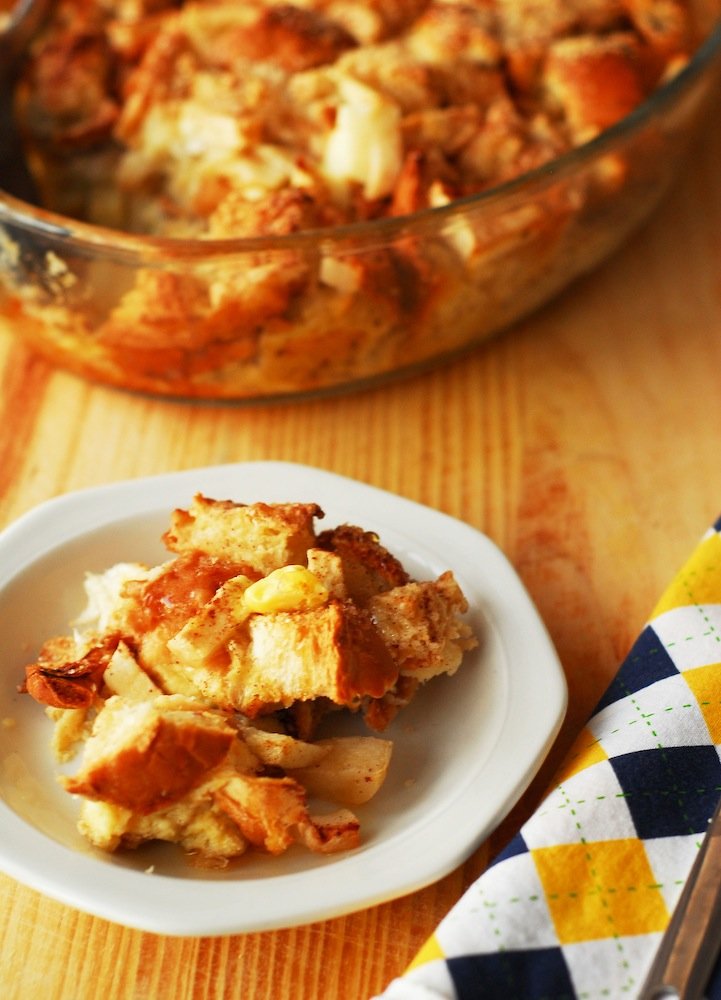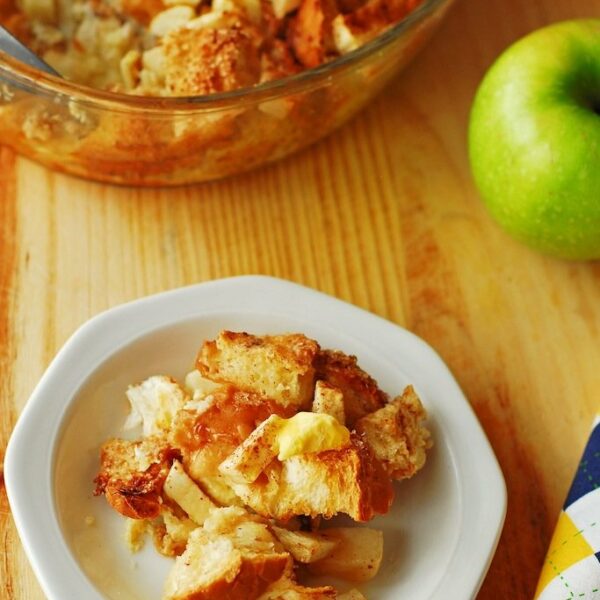 Get the Recipe: Cinnamon Apple French Toast Bake
Ingredients
1 tbsp butter, softened
1 loaf day old challah bread
2 large granny smith apples, peeled, cored, and diced
2 cups milk
4 eggs
1 tsp lemon juice
2 tsp cinnamon, separated
1 tsp mixed or pumpkin pie spice
3 tbsp brown or raw sugar
Instructions
Preheat oven to 350 degrees F (180 degrees C). Grease a 9×13 inch baking dish with the softened butter.

Whisk together the milk, eggs, lemon juice, 1 tsp cinnamon, and mixed or pumpkin pie spice. Set aside.

Cut the challah bread into one inch by one inch chunks. Toss in the greased baking dish with the diced apples.

Pour the egg milk mixture over the bread and and apples.

Sprinkle the sugar and remaining teaspoon of cinnamon over the bake. Bake for 40-45 minutes, until custardy on the bottom and crunchy and golden on top.