KLCC Microbrew Fest Recap!
This past weekend was filled with all things beer, and it was fabulous. I plan on sharing other parts of my fabulous weekend (e.g. excellent music) with you later this week.
We tasted all kinds of beers at the KLCC Microbrew Festival. Like…
Some Crispin Hard Cider.
Ninkasi. Which had an awesome foosball table.
Stella Artois and Hoegaarden.
Tasting was really fun, and we got these awesome sample glasses. Sponsored by your local Dari Mart!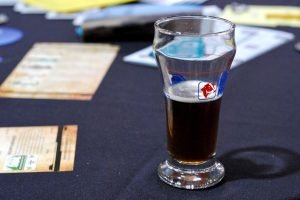 There was a fantastic band.
And lots of dancing. Including an appearance by the old man dancing.
Some breweries brought hops and grain that they use to brew. Like Sam Adams.
I really liked the taste tickets with mugs of beer on them.
I highly recommend going to the festival next year! We had a great time, and I was introduced to a new type of beer called whit beer, and I may or may not be obsessed.
Happy drinking!