Fresh Hop Fest Recap and Jalapeno Cheese Beer Bread
The Willamette Valley Fresh Hop Festival took place in Eugene last weekend! Beer made with fresh hops instead of the traditional dry hops was featured from all over Oregon. Below are a few of the breweries that come to showcase their creations! Click the pictures to go to their websites.
I sampled several of the beers, and they were all fantastic! I wasn't quite on my A-game with the picture taking because I was so distracted by my hoppy surroundings, but I did snap a few shots!
Here are the first of several samples Boyfriend and I enjoyed. I had Ram Brewing's Harvest Ale and he had Ninkasi's Crystalation (their Fresh Hop Total Domination IPA) to start. Both delicious! We also got these awesome pint glasses with our admission.
To accompany our tasty brews, we got Irish potato nachos with corned beef cooked in a stout and a creamy horseradish sauce. Hands down the most unique nachos I've ever had. They went perfectly with the intense hoppiness of each beer!
The building was decorated with dried hops. They looked and smelled so amazing! On each table they had bunches of them.
And over the entry they created essentially a hop wreath. I couldn't help but think of all the ways
my mom
could use hops to decorate 🙂
All in all, it was really fun! One of the many wonderful things about living in Eugene is all of the local beer. I'm so glad I got to turn 21 here!
In the spirit of all the wonderful beer events happening across the country, I baked a jalapeno cheese beer bread. Have you ever made a beer bread? I think that they are incredible. If you really wanted to, you could make a bread with simply a bottle of beer and flour. How amazing is that?! Mine's got a little more zing, but it is still very simple.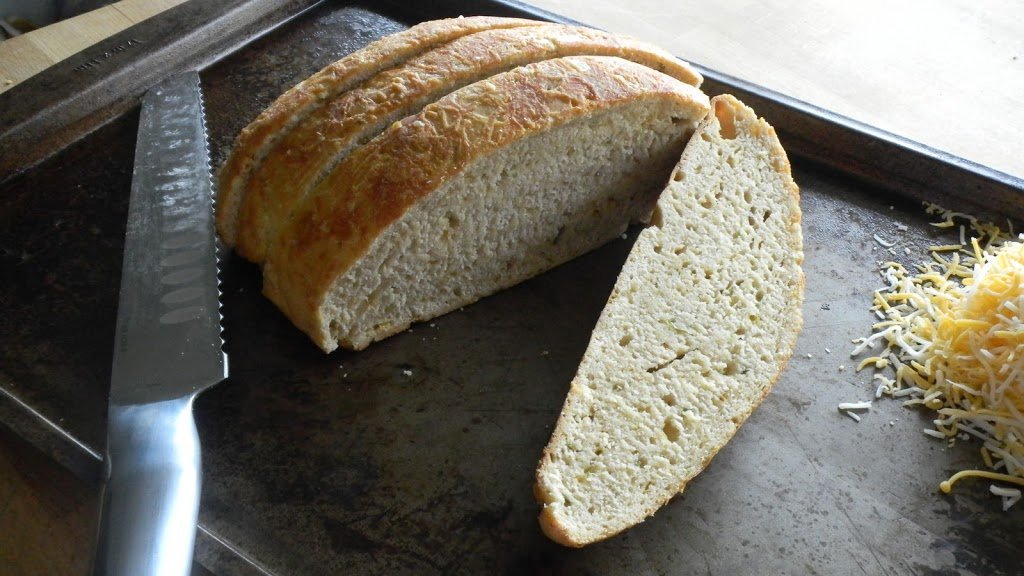 This came out so moist and delicious and had the perfect undertones of hops. For this, I used Deschutes Inversion IPA, but you could use just about any beer. If you're not a fan of intense hoppy flavor, I'd recommend a wheat beer such as a Hefeweizen. I plan to experiment with some dessert beer breads, too! This may be even simpler to whip up than my
focaccia bread
. The recipe is below!
Jalapeno Cheese Beer Bread
Ingredients
1 12 oz. bottle of beer
1 tbsp olive oil
3 cups of flour
1 tsp salt
1 tsp baking soda
1/2 tsp sugar
1 tsp garlic powder
1 cup cheddar cheese, shredded or cut into small cubes
1-1 1/2 jalapenos, diced small and seeds removed
1 egg white
1 tsp water
1/4 cup shredded cheddar cheese (optional)
Directions
1. Combine flour, salt, baking soda, sugar, and garlic powder.
2. Using the dough hook on your mixer, combine the beer and olive oil.
3. Add the dry ingredients to the beer mixture. Depending on the beer you used, among other things, you may need to add more flour until dough no longer sticks to the sides of the bowl.
4. Knead in the cheddar cheese and jalapeno by hand.
5. Oil a large bowl, add the dough, cover with a towel and let rise until doubled in size.
6. Preheat the oven to 375 degrees. Lightly oil a loaf pan or baking sheet.
7. Punch down the dough and shape into the loaf pan or on the baking sheet. Combine the egg white and water and brush over the loaf. Top with additional shredded cheese if desired. Bake for 30 to 40 minutes, or until top is golden brown and bread springs back.