Beginner's Madeleines with Lemon Glaze
Oh my goodness.
Before today, I had never had a madeleine. In fact, before just a few months ago, I'd never even heard of these delectable little things.
Man oh man, was I missing out. My grandma gave me a madeleine pan for Christmas and since then I've been excited to try them, although a bit intimidated. Two months later, I've finally given it a go, and they were not as difficult as I thought they would be to make! They are a bit time consuming, though.
Begin by preheating your oven to 375 degrees. Grease a madeleine pan very, very well and sprinkle with flour.
Melt a half cup of butter and let it sit and cool until you need it. You don't want it to harden, it just shouldn't be hot by the time you need it.
It's important that your ingredients are at room temperature. My mom taught me a trick for eggs: to cool them down quickly, place them in a bowl of warm water.
Beat the eggs, vanilla, lemon zest, and food coloring if you want it, for five minutes. As you can tell, I went with hot pink.
Add the powdered sugar, and beat for another five minutes.
While the egg mixture is beating, sift the flour and baking powder together. Usually, I'm a bit lazy about details like this. Sift? Why would I, when I can just dump it in? But this time, I took the time to sift it properly, and I'm glad I did.
Keep that sifter out, and sift about a fifth of the flour over the egg mixture, and gently fold in with a spatula. Another opportunity for laziness: why not just use the paddle attachment on my Kitchenaid? Don't do it! Continue sifting and folding in the flour mixture, about a fourth of the rest at a time.
At this point, the dough looked different than any dough I had every made before. So many air bubbles, I now understood why they were so light and fluffy. Now, fold in the melted and cooled (but not hardened!) butter. At this point, to me, it looked like the consistency of taffy, although it didn't feel like it.
Spoon this mixture into the prepared molds about 3/4 full. Success means there's a hump in the middle when they're done. Good luck! 🙂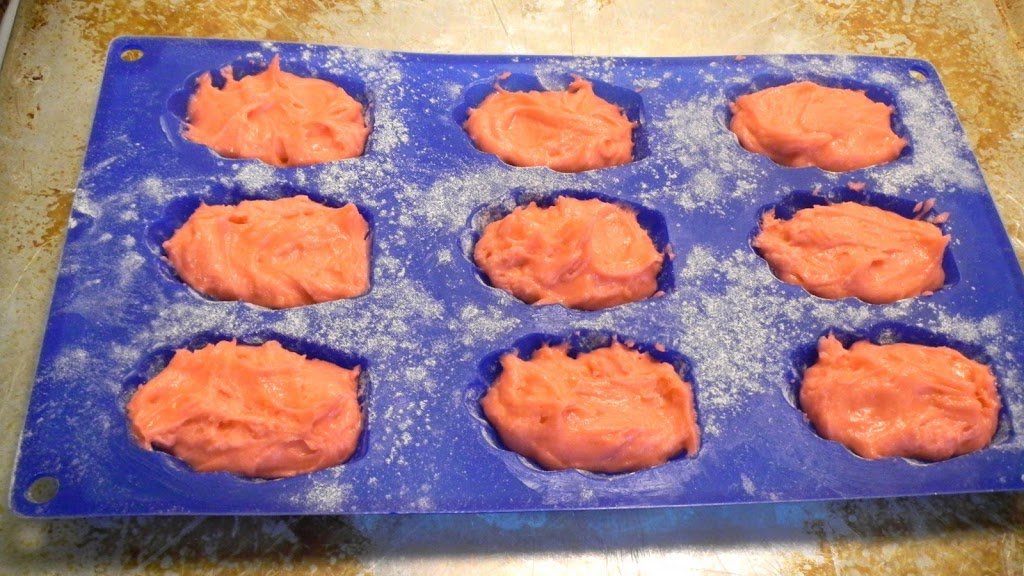 I was so happy they turned out properly! I hear that the traditional way does not involve any baking powder… maybe once I'm a bit more comfortable I'll try a more authentic recipe.
To make the glaze, simply combine powdered sugar, milk, lemon juice, and a little more food coloring if ya like. I dipped half of them in, sprinkled them with some hot pink sugar crystals, and ta da!
I've climbed the madeleine mountain.
Madeleines with Lemon Glaze
Adapted from AllRecipes
Ingredients