The Apron Wish List
We are officially, indisputably in Christmas season! That means it's time for me to start window shopping for family, friends, and myself. And I really mean window shopping: sorry loved ones, Fiance and I just spent a year living in a foreign country without jobs which means you might get an awesome (albeit small) gift from South Africa but Christmas presents are off the table. Which means this is really a wish list. For everyone, not just me. I'll make it up next year!
As demonstrated by this very blog you are on now, I love food. More than that, I love cooking food! Which means, like many other home cooks, I have a fairly substantial apron collection. I adore cute aprons. I can wear something that is supposed to get dirty and washes up well but also looks awesome while cooking for friends and family. Or just for myself, because that's fun, too. I'm lucky enough to have a crazy talented mother who makes seriously incredible aprons and she's been kind enough to even make me some, but I don't have that gift, so I'm looking at buying a few aprons my friends and family (and let's be real here- my own self, too) would love! Here's what I came up with from across the internetz this year for my apron wish list.
I love this apron cut from Flirty Aprons with the big bow! The only problem: I don't know if I like it better in blue or purple. I think blue. But also purple.
I have always loved the aprons from Anthropologie. Like gawked and stared on a regular basis for years. I never buy them for myself, but the few I've gotten as gifts are treasures in my kitchen. Here are some they have now that I think are adorable: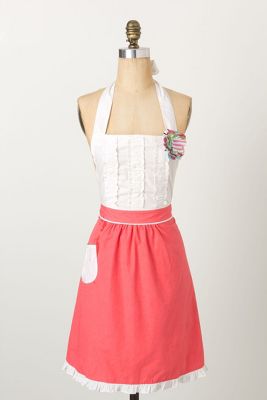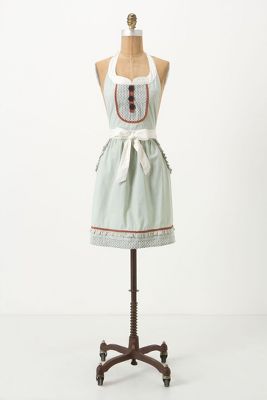 That last one sent me on a bit of a polka dot spree, during which time I also stumbled upon this adorable frock from Lovely Aprons:
What's on your wish list this season?